---
"I don't do these things because I want to run the risk of being killed. I do it to demonstrate what can be done. Somebody has got to show the way. I want to do things that people feel can't be done. I don't believe anything is impossible but perpetual motion. I am convinced that someday we will all be flying and the more things that are attempted and accomplished, the quicker we will get there."
Ormer Locklear, 1919
Ormer Leslie Locklear was a Texas farm boy who suddenly found himself part of the razzle-dazzle and glamour of Hollywood in 1919. He had a desire for daring and a rollicking Douglas Fairbanks attitude toward life. He lived everyday as if it were his last...And why not? Every day might well have been his last.
Ormer Locklear in the cockpit of a Jenny for a publicity still for the William Fox production, The Skywayman
Locklear was known as the "man who walked on wings." He had become internationally famous because of his unusual ability to walk on the wings of planes in flight. But 'Lock" was more than just a man who walked on wings. He was the undisputed king of daredevils and the darling of Hollywood. A short professional career as an aviation stunt man lasted only 16 months: he was killed doing a wing-walking stunt for a film.M
He became the most touted aviator of his day, and there wasn't a country fair from Hartford, Connecticut to the Calgary Stampede in Canada that didn't declare a "Locklear Day" and post him as the leading attraction. At the height of his career he was making $1,000 a day for a half-hours work. His name was a household word. To Locklear, more than anyone can be credited the tremendous boom in barnstorming that captured America in the 20's. He made wing walking an art. He was the first man to change from one plane to another in mid-air, amazing the world, even though most credited him with "more guts than brains."
Ethel Dare was the first woman to change planes in the air. Pretty and petite she was billed as the "1920 Aerial Sensation," the "Queen of the Air" or provocatively as "The Flying Witch." She had been a flying trapeze performer with the Barnum And Bailey Circus.
Ethel Dare,
the "Flying Witch"
Miss Dare delighted in standing on the edge of a wing and then would suddenly fall backwards into space. A length of rope would suddenly hault her death plunge. Then she would climb back, hand over hand, to perform other stunts. Her specialty, and all of the daredevils had specialities, was the "Iron Jaw Spin." Dangling from the end of a rope with a special mouthpiece clutched between her teeth, Ethel would twirl dizzily in the plane's propwash. Up the rope she would climb for a daring series of calisthenics as the plane circled the fairgrounds.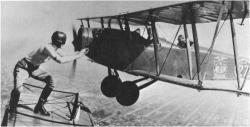 Gladys Ingle's mid-air change of planes from one Jenny's wing to another.
There were many sure-footed showmen of the sky. They were a surplus commodity of the Great War: out-of-work aviators. They found a unique and satisfying way to survive, as itinerant showmen of the air. They walked on wings and attempted increasingly reckless acrobatics in mid-air, such as changing planes or transferring from a speeding automobile, train or boat..... And before their show had run it's course, they had introduced a hesitant public to the thrills of flight.
Clyde Pangborn, Jack Shack, Al Wilson, Tiny Broderick, Gladys Ingles, Fronty Nichols, Spider Matlock, Gladys Roy, Ivan Unger and Jessie Woods, (cofounder of the Flying Aces, the last great flying circus) were a few who "Rode The Wild Wind."